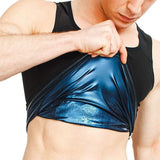 Faster & Smarter Way To Achieve Your Fitness Goal!
Want to lose weight by burning extra calories in the body? Now you can reach your fitness goals fast with our Super Sauna Shaper. It's uniquely designed to insulate the heat and stimulate fat & water loss in the waist area. It burns your belly fat, get rid of toxins by promoting sweating while exercising and make weight loss more effective.

Features:
✔️ ADVANCED SAUNA SHAPER: Our sauna shapers use a heat-trapping fabric to accelerate your natural body heat and promote sweating. Wearing Sweat Shaper while working out and during daily activities creates a sauna-like experience. What that means is your body temperature will rise, so you sweat more and shed water weight. Now you can burn more calories and get results faster!

✔️ ULTRA-PREMIUM FABRIC: Special blend of fabrics come together to create the ultimate tank top. The inner heat-trapping fabric increases your core temperature to promote sweating for more calories burned and faster weight-loss results. The outer performance compression fabric instantly slims and shapes your figure, while also supporting your muscles.

✔️ SHAPE YOUR BODY: Flatten your abdomen and eliminate unsightly back rolls. It will tuck your tummy and shape your waist, smooth you out and make you look so much better. Wear under or over your clothes for a flat, toned look. It will make you sweat, but it also repels moisture to dry quickly and always stay fresh.

✔️ COMFORTABLE: Lightweight, comfortable, quick-drying sauna shaper moves and stretches with you during workouts at the gym yoga, cardio, cycling, running errands, and so much more. Featuring a traditional tank top style backing and low-cut bust support in front, you can easily wear a bra underneath.

✔️ BURN FAT: Designed to maximize the fat-loss and muscle toning results that you're aiming for when working out at the gym, you'll reach your fitness goals faster and easier than expected with significantly less effort! Speed-up the calorie burning process and trim inches off your waist quicker.