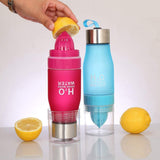 H_O Fruit Infusion Water Bottle
No More Bottled Flavored Water Cause Making Flavored Detox Water is a Breeze Now!
Do you love detox or flavored water? If you do then this Hå_O Fruit Infusion Water Bottle is exactly for you! With half a lemon or other fruit squeezed at the bottom, your water will taste like never before delivering the most flavor to your water down to the last drop. Now you can have chilled flavored water anytime!

Features:
ACTIVE INFUSION TECHNOLOGY: If you hate drinking plain water then this is what you need! The active infusion technology of this infuser bottle to release more flavor from your lemon, limes, and clementines. No more processed bottled drinks, drink pure detox water and be healthy!


SAFE & HEALTHY: Safe, durable and eco-friendly bottles made from food-grade plastic. Does not contain BPA/EA plastics. With removable active infusion citrus press for easy cleaning.


SPICE UP YOUR WATER IN SECONDS: Built-in juicer instantly infuse fruit into your water. Just toss in your fruit, squeeze, and you're ready to drink!