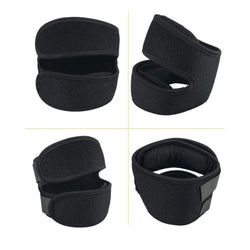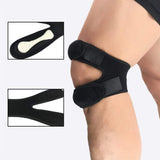 Relieve Your Knee Joint Pain & Bring Added Comfort During Motion Effortlessly!
•ÈÀLooking for an effective solution to treat your patella tendon condition? Give the patella tendon a chance to heal with our Patella Stabilizer Brace. It‰۪s designed to boost the overall stability of the knee and improve patella tracking by applying mild pressure on the knee.

Features:
åÊ
EXCEPTIONAL COMPRESSION SILICON TUBES: Equipped with a lower tube which targets patellar tendon and an upper tube particularly targets quadriceps misalignment that effectively adapts to the shape of the knee. Both of the tubes aim to improve the kneecap‰۪s overall stability and strengthen patella‰۪s mechanism makes it an efficient knee strap for knee pain relief!


FLEXIBLE STABILIZERS: The strap provides compression, increases blood flow and retains heat to reduce pain and swelling around the joint. Carefully designed to reduce the stress focus on the knee-joints during heavy work and intense exercise. Experience the relief and added comfort while you engage with your usual and extraordinary activities with fewer worries!


INCOMPARABLE COMPRESSION SUPPORT: The tendon strap offers easy comfort, stability, and protection. It alleviates the pressure, protects your knees and relief from tendon and knee pain while walking, running and playing. Perfect for people with knee and tendon injuries, providing pain relief and healing.


VELCRO DESIGNED STRAP: The comprehensive wrap-around design of the knee brace allows quick and easy wear and take off. Easy to adjust regardless of the size and type of body. The patellar tendon strap stays securely in place without restricting your range of motion.


PREMIUM QUALITY: It‰۪s made of high-quality Nylon material. Eliminates potential skin rash and allergy for its breathable, sweat absorption material. The strap has the compressive strength; shock absorbent and impact resistant.


OPEN-PATELLA DESIGN: It reduces pressure on the patella & underlying knee joint. Extra support for intense workouts/sports exercises. Suitable for all people of knee injury treatment and prevention.