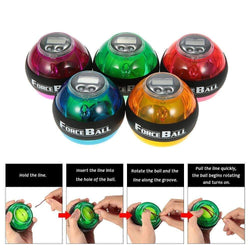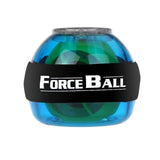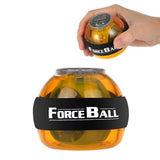 Powerball Gyroscope Grip Exerciser
Have Fun Strengthening Hands, Wrists, & Forearms In Just Minutes A Day With This Amazing Powerball Gyroscope Grip Exerciser!
Want an effective exercise tool when you have no time to work out? Keep your dexterity and strength intact when you can't make it to the rocks or gym thanks to the Powerball Gyroscope Grip Exerciser! A convenient & portable exercise tool to improve finger strength & forearm!
Features:
SMART DESIGN: One of the smallest sports equipment in the world. However, it can create the most powerful energy for your usual exercise. Simple to start with a pull-string. By rotating the wrist and the speed can reach up to 12.000RPM. The counter function allows you to check your rotating speed.


COMPACT EXERCISE MACHINE TO TAKE ANYWHERE: Small, compact and transportable gyroball. So easy to carry, that you can carry with it when watching television, doing outdoor activities and in your leisure time. Especially for the people who stay in an office all day and lack exercise.


SIMPLE TO USE: This gyroball can increase the strength of the fingers and the endurance of the wrists. All you need do is to increase the speed by making a rotational wrist movement and to keep in sync with the spinning of the ball. The faster you spin the harder your muscles work.


REHABILITATES SORE MUSCLES & JOINT: The gyroball helps to strengthen fingers, wrists, hands, forearms, shoulders, and biceps, etc. It also reduces the numbness in your fingers, wrists, hands, and forearms. Beneficial in promoting coordination and blood circulation.


BUILT-TO-LAST: This gyro ball is made of sturdy PC & PP material with an impact-resistant structure. Non-toxic, hypoallergenic. An ideal grip strength trainer for golf, tennis, climbing, cycling, basketball, cricket, martial art.


LED FLASH: Internal LED bulbs will light up when the ball is in motion. The faster you turn, the brighter the LED lights will be on the gyroball. It will keep lighting up as long as it's spinning.