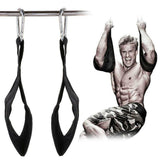 Hanging Sling Muscle Trainer
Efficiently Achieve Your Fitness Goals With the Ultimate Hanging Sling Muscle Trainer

Not getting results from your daily workout? Now add more variety to your ab workouts with Hanging Sling Muscle Trainer- target all muscle groups and let the results speak for themselves!

Features:
BEST FORM, BEST RESULTS: Putting all your energy into holding the bar for a full set of leg raises makes the exercise ineffective - your hands get tired, your abs don't get worked! Our sling muscle trainer keeps your arms and body stable to ensure perfect form through hanging leg exercises. No more swinging and struggling to hold the bar - focus on the movement and contracting your abs.


ACQUIRE 'THE PERFECT SIX PACK': No more annoying, useless 1000 crunch sessions. Train with our hanging sling muscle trainer to activate all parts of your abdominals which you can't with regular floor exercises.You can do hanging ab exercises for more reps with perfect form to achieve the best possible results.


QUALITY & COMFORT TOGETHER: A heavy-duty ab slings straps with great design and to last forever, no more compromising quality or comfort! You can focus on your core abs muscle group and lift your legs or knees easily! Perfect for every training session and help you get the V-shape body.


PERFECT FOR THE GYM & AT HOME: Suitable for any gym, home and outdoor space, you can bring and have it set up anywhere in just a few seconds! Fits all standard pull-up bars, chin-up bars, home gym systems or to put it - any bar. It's a must-have for all your ab workouts!


BUILT FOR LONG LASTING: Made from heavy-duty nylon material with steel buckle, which is guaranteed to last until you finally achieve your 'perfect six-pack'... AT LEAST!