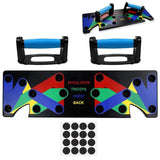 9 in 1 Push Up Rack Board
9 in 1 Push Up Rack Board Helps to Tone Your Muscle Beautifully So You Can Maintain Your Body Structure & Look Fab!
•ÈÀWant an easy way to do push-ups at home? This unique Push Up Training Board is the ultimate solution for you. It sculpts and maximizes your upper body definition. A must-have workout instrument. It has a total of 9 different positions that enhance your shoulders, triceps, chest, and back.åÊ
åÊ
åÊ
Features:
TARGETS YOUR UPPER BODY: 9 in 1 Push Up Rack Board is an innovative, complete push-up board training system that strengthens and sculpts your chest, shoulders, back, triceps, biceps, and core. The revolutionary color-coded push-up positions allow you to plug and press for extreme results. It also promotes proper form to maximize your workout.


MULTIPLE POSITIONS & ANGLES, BETTER RESULTS: This power press push up is a versatile color-coded push-up board system. It maximizes upper body strength and definition. The multiple preset positions promote proper form and sculpt strong lean muscles. Mix and match various positions for a more challenging workout.


PORTABLE WORKOUT SPACE: You can build supreme quality indoor and outdoor workout parks for public or private space. t features a foldable and portable design that you can conveniently carry the push-up board everywhere. You can simply assemble, and Store it in the backpack.


REACH WORKOUT WORKOUT GOAL: You can build up a strong, and mobile body with this workout equipment. Reach your goals no matter, if you are a beginner, intermediate or advanced athlete.


BURN CALORIES: Burn your calories, and build a solid body with this innovative pushup system. It leads you through a total-body strength and conditioning workout.


NON-SLIP RACK BOARD: With its Increased friction, it reduces the possibility of slipping. Do your workout with more safety with no slipping!