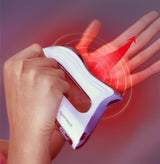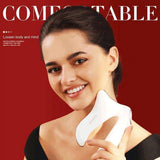 Hyperblade Soft Tissue Massager
Hyperblade Soft Tissue Massager- The Advanced Massager That Provides Deep-Tissue Massage On Every Part of Your Body!
Want to get rid of your back pain or unbearable muscle soreness & stiffness? Try our Hyperblade Soft Tissue Massager, and kick away all of your body pain, and stiffness. The professional massager includes three custom intensity settings and NMES technology for deep muscle therapy. With a single massage, it increases blood circulation and relaxes your muscles effectively in seconds. Improve your mobility and stay active in your daily life!
Features:
NMES MICRO-CURRENT & MICRO-VIBRATION MASSAGE THERAPY: The tissue massager features NMES micro-current and micro-vibration. Micro-current technology activates muscles, prevents muscle atrophy, and accelerate blood circulation. The handheld massager uses pulsating vibrations to activate the muscles and stimulate blood flow. It dramatically reduces muscle recovery time, relieves pain, and relax from head to toe. If you are doing any lifting or physically straining job, you need this!


THREE INTENSITY LEVELS & MULTI-ANGLE MASSAGE: The massager features three custom intensity settings that allow you to work on deep tissue, increase circulation, or mobility. The incredible massage head allows your body to enjoy a multi-angle massage for muscle pain relief. The professional percussion massager helps to release tension and ease sore, tight muscles, relax all of your muscle groups, de-stress, and energize your whole body.


LOW NOISE OPERATION: The advanced tissue massager works in a whisper-quiet manner so that you can just relax and enjoy the quiet massage! Compact and lightweight muscle pain relief device. This professional percussion massager is designed to be flat, small, and easy to be carried around.


ULTIMATE MASSAGE HEAD: Every muscle is different, different shape, size, function. The massager helps to meet all your massage needs. The standard massage head is suitable for small and large muscle groups and targets joint parts, deep tissue, and trigger points.


PREVENT YOUR INJURIES: You can use this advanced massager before exercise to prevent injuries and after workouts for faster recovery. NEMS technology will increase blood circulation and lengthen muscles, which helps to increase your mobility and flexibility.


ERGONOMIC DESIGN: Our patented design provides multiple sized beveled edges to give you the versatility of usage. The convex and concave curves give you the flexibility of using. Regardless of the muscle, you can apply the massager on every part of the body.


SMART SENSOR TECHNOLOGY: The massager features auto finding acupuncture points. When an inevitable part of NEMS feels obvious, it can be pressed and massaged. With intelligent sensor switch, you can operate the massager smartly.


RECHARGEABLE LITHIUM BATTERY: The handheld massager is equipped with 1100mAh high-quality lithium battery, which has a longer life.