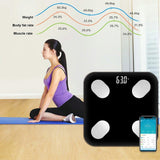 Track Your Everyday Health Status & Enhance Your Fitness Journey With This Smart LED Weight Scale!
Want to track your day-to-day health condition and body fitness? Introducing the Smart Scale that can provide you with a complete health status! With this single scale, you can track your weight over time, along with other health factors, and even share your fitness resolutions with your friends! Now you can track your health and fitness every single day with a smart LED weight scale & reach your fitness goal soon! 
Features:
SHARE & STORE YOUR HEALTH CONDITION: The APP that you connect with your weight scale can make your life easier. You can add friends, post your fit story, exercise as trends, and get people to pay attention to you. Also, you can know your friend's movements that can improve your fitness track. Also, you can store all your data on your phone.


MEASURES VARIOUS HEALTH FACTORS: The single weight scale can measure your body fat percentage, BMI, body weight, water percentage, protein. Also, it can track your skeletal muscle, bone mass, muscle mass, basal metabolism, body age, and more. Gives you a complete analysis of body and fitness.


SMART BLUETOOTH TRACKER: This Bluetooth Scale shows full results and stores them to sync when the phone is around. The weight scale requires an application that you have to install on your smartphone. With the Bluetooth connection, the changes in your weight will be recorded. 


ERGONOMIC DESIGN & PROPER GUIDANCE: Features Sleek Design with high strength tempered glass that is perfect for your everyday fitness checking. The weight scale is made of tempered glass that features non-slip texture. 


LED DISPLAY & HIGH ACCURACY: The LED Display shows precise measurement that you can know your current body condition. Features sensors with the latest technology that delivers accurate weight measurements.


MAXIMUM WEIGHT RECOMMENDATION: The

LED weight scale will be suitable for up to 

150KG. The super durable, and flexible weight scale provides an accurate weight.